Details
Details

Category: Limited Time Offers
Semi-automatic Booklet Making Machine. USD359.
(Original price is USD420. Only 10 pieces left now)
Booklet Making Machine is an entry-level bookletmaker featuring a space-saving compact design. This booklet making machine is easy to set up and operate and makes booklets up to 40 pages(10sheets). The booklet maker also features automatic paper centering, dual staple heads and fold rollers, all-metal construction.
Booklet Maker is ideal for the small business owner. It is an easy to use, lightweight, mobile booklet maker with dual adjustable side guides that automatically center the paper. It takes only seconds to set-up. It staples and folds up to 10 sheets of 20-lb bond paper. It also includes two staplers.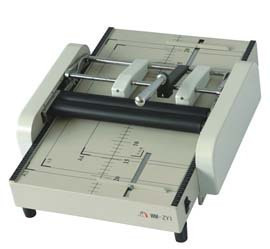 Specs:
Double function, it can be used as a booklet maker or a paper folder.
Speed: 250 sets/hour
Sheet capacity : 10 sheets, up to 40 pages. 80g/20lb paper.
Paper size:8 1/2" x 11" to 11" x 17"
Number of staple heads: 2
Manual feed: yes
Power supply:110 V, 60 Hz/ 220V, 50 Hz available
Power: 60W
Dimensions (D x W x H):16 1/2" x 19 3/4" x 9 1/4"
Shipping weight:36 lbs.
*may vary due to variations in paper and power supply
**operator dependent
Know more about the product, click here!