Details
Details

Category: NEW-Graphic Arts business
Published on Sunday, 25 August 2013 21:12
Written by shichang ding
Hits: 22408
Inkjet-Printing DIY Photo Balloons
Price:
A3 (28 cm, 11 inch ), 50 sets,  one box, price: USD150.
A4 (18 cm, 7 inch ),  100 sets,   one box ,price: USD180.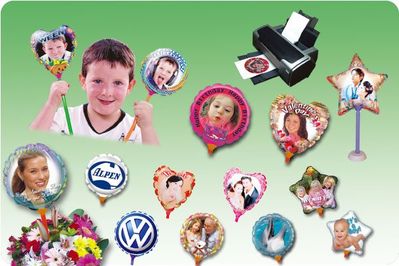 DIY balloons are perfect for parties, wedding banquets, special events, promotions, or even greeting & invitation cards, etc.. Are DIY balloons difficult to make? No! Now, you can print whatever you want on our DIY balloons with simply an inkjet printer at home or in the office! Made of aluminum foil composite film, the DIY balloons will stay good looking and high quality even after a long period of time.

Personalized, easy to make promo gift items. No Heat Press required! Print these balloons in any inkjet printer using standard inks. These balloons come in a frame that allows it to pass through your printer so you can print directly onto both sides of the balloon.

Blow them up through colorful jumbo plastic straws. Helium is not needed. They fit onto bases or our attractive display stand.

Template software is available with a huge selection of designs, or make your own. Insert your photos easily and personalize them "on the spot" for walk in clients. Great for fairs, events, fundraising, shops or parties.

Charateristics:
- waterproof
- absolutely unique & self-designed gifts
- both sides can be printed individually different images
- do-it-yourself, easy-to-use software available
- no special printer or ink needed, just standard computers & inkjet printers

Suitable for:
- Weddings
- Banquets
- Birthday parties
- Festivals & Anniversaries
- Greeting & Invitation cards
- Exhibitions & Product promotions
- Grand openings
- Tourist attractions & Theme parks
- Florists
- Gifts & Souvenirs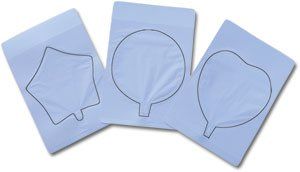 Available shapes & sizes:
- round & heart, star, 18cm (A4)
- round & heart, star, 28cm (A3 +)

Features:
1.Waterproof
2.Both sides can be designed differently
3.Free to design and easy to operate
4.No need to open a new printing mode.
5.No need of any special equipment or software. Just use the family computer and inkjet printer.
6.For promotion, gift, commemoration etc.

100% Water proof
The new special technology high-molecular compound enables the printing effect beautifully and clearly, despite that you use the normal ink. And it is 100% water proof. It's suitable to use outdoors.

Absolutely unique & self-designed gifts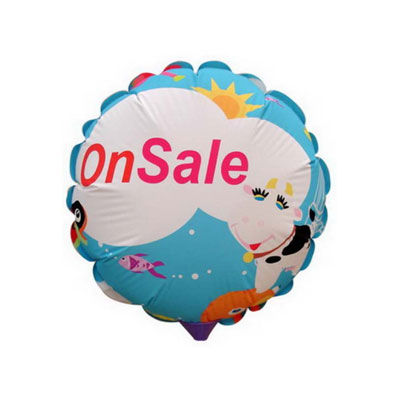 With your personally designed images the DIY balloons are unique. They are different from common balloons and will be very attractive. They are perfect gifts for young children and wonderful decoration for all kinds of parties.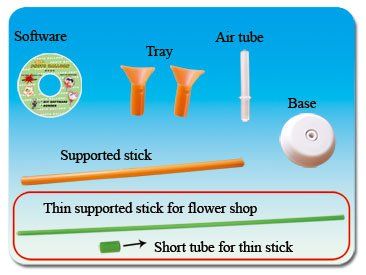 No need of any special equipment or software, only with the following

Accessory Details:
1. Software (you can download on the website)

2. Supported stick: Dia 1cm, length: 28cm
3.Thinner supported stick: Dia 0.5cm, length: 42cm
4.Short tube: Dia 1cm, length: 2cm
5.Base: Dia 5.2cm, height: 1.5cm, weight: 0.036kg/pcs
How to play
1. Open the SOFTWARE

2. Select a balloon's shape Insert your personalized photo
and choose a suitable border or just write message

3. Put one sheet of photo paper with blowing side p into your inkjet printer,Start first side rinting?The same process should be done for the 2nd side

4. Press the printed balloon with one hand and tear off it
carefully with the second hand following the dot line.

5. Insert transparent air tube into printed balloon.Make sure that the longer part is inserted into the blowing entrance

6. Add a 2-part tray to your fixed transparent air tube.

7.Add a supporting stick.
Blow up your personalized balloon with the help of the supported stick

8. Get your unique balloon.

 

 
Packing
Bulk packing details
For 18 cm ( A4 paper) , 100 PCS/box * 6 box = 600 pcs/carton
Accessory: Tray, air tube and supported stick,100sets/ box

For 28 cm ( A3 plus paper) , 50 PCS/box * 6 box = 300 pcs/carton
Accessory: Tray, air tube and supported stick, 50sets/ box 

Inner box: 44 * 34 * 6 cm
Carton size: 46 * 36 * 38 cm

Retail packet for(A4 size )
1) 3PCS put in a outer bag, 50 sets per carton
Accessory : The tray, the air tube, the support, the base total 3 sets and a software CD.
2) 6PCS put in a outer bag, 36 sets per carton
Accessory : The trays, the air tube, the support, the base total 6 sets, not include the software CD.
Carton size: 48 * 39 * 36 cm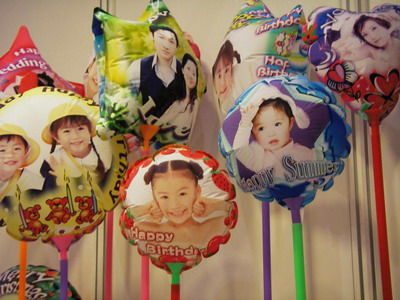 Tips
* Print both side with the normal inkjet printer (like HP,Epson,Canon & Lexmark printer )
* For best printing effect, pls choose photo quality & photo paper in printer set up.